Petley Jones Gallery Blog
Oct 17
Meet: Greg Pyra
Our collection at Petley Jones Gallery has a wonderful diversity of art. It is not often that an artist has such diversity amongst his or her own work - Greg Pyra is one of these rare artists. Our selection of work by Greg Pyra contains exquisite landscapes alongside vintage-style figurative paintings. His mastery of the medium of oil is obvious when comparing these images of very different genres side-by-side.
Although Greg is a figurative painter, he is also fascinated by the evolution of abstraction in Canada and has come to have personal relationships with the surviving members of the Automatistes and their contemporaries. Speaking to his own work:
"The spiritual journey is part of a magnificent search in our lives. It is within. The challenge for me as an artist is to create a metaphor for this journey without creating works which simply are landscapes."
Petley Jones Gallery will be showing a selection of Greg's work in an exhibition titled "Deadly Sins" from October 4th to 20th.
For more information:
Greg Pyra, Petley Jones Gallery artist page.
"Deadly Sins" at Petley Jones Gallery.
by Stephanie Matchung
Sep 05
Meet: Brigitta Kocsis
I first encountered the work of Brigitta Kocsis while digging around the Petley Jones Gallery inventory. I pulled out a selection of her work - four little canvases including #6, seen below. A perfect square, measuring only ten inches by ten inches, it is a small image with a big emotional impact. I found myself in awe of the central figure and her spooky surroundings. The diluted, dripping acrylic of the background contrasts the potency of colour on the figure in the foreground in a fascinatingly unsettling way.
The artist was born in Hungary, but learned the English language after a move to the United Kingdom. She relocated to Montreal after two years in England to pursue her fine arts education at Concordia University. She earned her BFA at the Emily Carr Institute of Art and Design, and has been living and working in Vancouver since 1994. Of her own art, she says:
"My work explores the space between figuration and abstraction. The compositions are focused on investigating the shifting concepts of the human body and its environment. Contemporary discoveries in anatomical technologies have profoundly changed how one perceives the human body."
Petley Jones Gallery will be showing "Hide()Us" from September 13th to 29th, an exhibition featuring a selection of Brigitta's work. 
For more information:
Join us for Brigitta's Hide( )Us exhibition opening on Thursday, September 13 from 6-8pm. 
Brigitta Kocsis, Petley Jones Gallery artist page.
by Stephanie Matchung
Aug 02
Meet: Diana McNish
Our front window at Petley Jones Gallery is currently alive with vibrant, figurative sculptures by Diana McNish. Below is Prunella - she is larger-than-life, not only in her appearance but in her size. Her torso folds over at the hips, but if she were able to raise herself upright, she would tower over your average professional basketball player.
Her curved upper-half is, in fact, made of one solid piece of driftwood. According to Diana, Prunella is a throwback from the nursery rhyme "Peter Peter Pumpkin Eater." Indeed, Prunella appears to be stepping straight out of a storybook - she is beautiful and glamorous in a truly unique and, frankly, unsettling way. Her dress, hair, shoes, and make up are carefully decorated, and the proportions of her body are manipulated in an other-worldly fashion. Her appearance is something that could have only been imagined up in a dream (or a nightmare).
Diana's sculptures are built of driftwood and a mixture of resin, fiberglass, found materials and/or acrylic paints. As a child, she spent her summers on Savary Island in British Columbia, where she continues to visit to gather the driftwood that support her imaginative sculptures:
"I'm a kid from a sandbar, from the Pacific Northwest where I grew up watching my father pick up a piece of driftwood asking all of us children 'what do you see?' Mornings I rose to the sounds of seashells opening at low tide, gurgling their way back to sea. This was and is my life, my inspiration, my raison d'etre. My work today is because of all things beautiful from the lip of low tide, the flotsam and jetsam of love, passion, and life."
Come visit us at Petley Jones Gallery to experience her sculptures for yourself!

For more information:
Diana McNish, Petley Jones Gallery artist page.
by Stephanie Matchung
Jul 19
LINE: PAST & PRESENT
On Saturday, we opened a new exhibition called LINE: PAST & PRESENT. From now until August 4th, we will be showing drawings from contemporary and historical artists in support of the Vancouver Drawn Festival, a one-of-a-kind celebration of the medium of drawing. It is a unique multi-venue event that includes free lectures, gallery tours, exhibition openings, and artist talks across the city, and we are proud to be a part of it!
LINE: PAST & PRESENT includes works by artists like Jack Shadbolt, Marc-Aurèle Fortin, Llewellyn Petley-Jones, Eric Metcalf, Blair Drawson, Brigitta Kocsis, Gwaai Edenshaw, and others. A number of drawings by Michael Hermesh are also on view, including The Calm Before the Storm, seen below. I love the strange, eerie details and chaotic composition of the image. Regarding his own work, Hermesh says:
"My art is shaped by how I view the world … Life is life - it is dynamic and it is always a struggle. Integrity, awareness and dignity remain constants. These are elements in life that are unchanging and real that can be spent or thrown away. For me this is the mystic and beauty of life and the underlying subject matter of all my work."
In addition to the works on display, we are happy to pull additional pieces from our extensive collection for viewing. Help us celebrate the Drawn Festival by coming to Petley Jones Gallery, explore our exhibition, and visit other participating Vancouver-area galleries and museums!
For more information:
Michael Hermesh, Petley Jones Gallery artist page.
Vancouver Drawn Festival, from July 14 – August 4, 2012.
by Stephanie Matchung
Jul 12
Meet: Clayton Anderson
The average visit to Petley Jones Gallery begins the following way: you walk through our front door and down the ramp into the gallery space. You take a look around at our collection and eventually approach the front desk. Here, you will typically find two things: our lovely Gallery Manager, Jeen, and a featured painting, which is presently a big dreamy landscape in blues, greens, and grays.
The man behind the canvas is Clayton Anderson, a born and bred West Vancouverite and painter of the western Canadian landscape. The aura of natural calm and serenity in his work is no accident – he admits the influence of European impressionists and Canadian masters like Emily Carr on his painting, finding inspiration in the spirit of nature. Clayton states:
"Occasionally, if the conditions are just right, the observed natural world around me seems to pulse with a kind of spirit or soul that seems profoundly ancient and mysteriously wonderful … My goal is to imbue my paintings with this sense of 'presence', to cut through the noise of modern society and give a dignified voice to these elements that are all too commonly overlooked."
The beautiful painting that is currently being shown behind our front desk is titled Desolation Sound. The actual Desolation Sound is an area of deep water on the Sunshine Coast in British Columbia, famous for its gorgeous spectacle of mountains and ocean. Come visit us and experience it for yourself!
For more information:
Clayton Anderson, Petley Jones Gallery artist page.
by Stephanie Matchung
Jul 04
Duncan Regehr x 2
If you happen to find yourself in Victoria over the next six weeks and you love colourful, kooky, figurative oil paintings, then you are in for a treat. Duncan Regehr, one of our contemporary artists here at Petley Jones, will be showing not one, but two retrospective exhibitions over the next two months. The Legacy Gallery is showing "Transformation: A Retrospective" from June 13 - August 18, 2012, and the Winchester Gallery at 2260 Oak Bay Avenue presents "Out of the Dragon's Eye: A Twenty Year Retrospective" from July 7 – 28, 2012. The preview for the Winchester show is this Friday, July 6th.
Regehr is a member of the Royal Canadian Academy, a recipient of the American Vision Award of Distinction in the Arts, and holds a Doctorate of Fine Arts, honoris causa from the University of Victoria. Through examinations of the human psyche and subconscious, Regehr has produced vibrant, highly personal, and thoughtful artworks for nearly four decades. Themes of transformation, metamorphosis, and the complexity of the human experience resonate strongly in his work.
For more information:
Duncan Regehr, Petley Jones Gallery artist page.
"Out of the Dragon's Eye: A Twenty Year Retrospective" at the Winchester Gallery.
"Transformation: A Retrospective" at the University of Victoria's Legacy Gallery – brief video of works on display.
by Stephanie Matchung

Jun 26
ArtWalk Memories
The ArtWalk was a huge success! Our thanks go out to the South Granville Business Improvement Association and our friends on Gallery Row for making it possible. Not only was it great publicity for the participating galleries, but it was an amazing chance to admire the variety of art in Vancouver and meet some really lovely people.
We had hundreds of visitors stop by - some folks were interested in finding that perfect piece of artwork for their home, and others simply wanted to enjoy beautiful art on a sunny Saturday. The Petley Jones team was eager to cater to a wide range of interests and show off the diversity of our collection. Several of our visitors were surprised to see historical works like Gathie Falk's Snapdragons in Colour from 1983 on display. It was a huge hit, along with Jack Shadbolt's Bird Images, made from painted wood.
One of my personal favourites was Summer Regatta by Llewellyn Petley-Jones, a breezy (pun intended) piece from 1964.
From historical pieces to works by contemporaries like Maxwell Newhouse and Andra Ghecevici, we had a little bit of everything on display this weekend.
I also had the pleasure of exploring a number of other galleries on Saturday. The organization and overall turnout of the event was very impressive. The ArtWalk truly had something to offer for every person and every taste. (I am referring to artistic taste, but considering that I also enjoyed an endless supply of wine and coffee and cookies, I suppose 'taste' has a double-meaning.) I viewed works by local, Canadian, and international artists in every imaginable medium, attended exhibition openings, a live painting demo, and had the opportunity to socialize with artists, curators, and fellow art-lovers. I even got up-close and personal with works from masters like Picasso and the Group of Seven!
We are looking forward to welcoming you all back to Petley Jones Gallery for the next ArtWalk. Thank you to all those who stopped by on Saturday - since our gallery space is just off Granville Street, we had a few visitors comment that they had never been to Petley Jones before. We hope some first-timers will return now that they know where to look!
For more information:
Llewellyn Petley-Jones, Petley Jones Gallery artist page.
Maxwell Newhouse, Petley Jones Gallery artist page.
Andra Ghecevici, Petley Jones Gallery artist page.
by Stephanie Matchung
Jun 22
Join us TOMORROW for the first ever South Granville ArtWalk! 
We'll have light snacks, refreshments and some really stellar art on display. 
1554 West 6th Avenue, Vancouver BC V6J 1R2; 1-604-732-5353.
Jun 20
I'm Stephanie the Intern, nice to meet you.
Being a Petley Jones Intern has its perks. The gallery's absolutely massive back-room inventory is like Disneyland for a recent Art History graduate like myself. In the last couple of months, I have photographed and touched and labelled more incredible pieces of art than my brain can comprehend. An unexpected perk is the killer workout my arms and legs have been receiving from lifting and hanging and climbing up and down ladders. I was even able to select a couple of pieces to put on display in the gallery. With hours of digging through the collection under my belt, I find that I have become rather taken with abstract representations of landscape. I have become obsessed with Debra Van Tuinen's encaustics, like Silver Sunset. According to Debra:
"My work is not an exact representation of the landscape. My paintings are meant to capture the emotions and thoughts that the landscape invokes in me and in the viewer as they respond to the energy and spirit in my work."
Through my education at UBC, I saw the evolution of landscape painting from John Constable to Monet and Cézanne. It is fascinating to work at a place where I can see this kind of evolution within an artistic family, from the dreamy watercolours of uncle Llewellyn to the thickly-applied acrylics of our very own Matt Petley-Jones. I love the colours in Matt's Spirit's Edge.
Both of these pieces are currently being exhibited alongside other works from the collection.
I'm looking forward to the South Granville ArtWalk this Saturday. Fifteen art galleries on Granville Street (between 5th and 15th Avenue) are participating in this event, including Petley Jones! If celebrating the Vancouver art scene isn't enough of a draw, maybe the promise of artist talks, wine and cheese tastings, and other goodies will convince you to stop by. Stay tuned for our thoughts on the event next week!
For more information:
Debra Van Tuinen, Petley Jones Gallery artist page.
Matt Petley-Jones, Petley Jones Gallery artist page.
South Granville ArtWalk.
by Stephanie Matchung
Mar 22
Sounds Good on Paper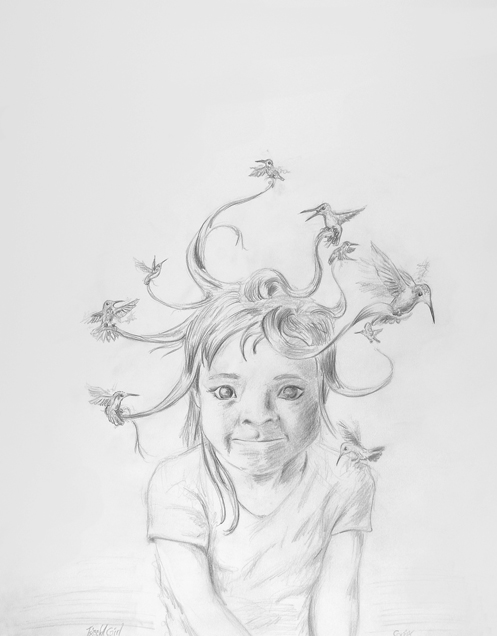 It's been a pretty crazy last couple of weeks here at Petley Jones Gallery. While everyone walks around peacefully out in the snow/rain/hail/sun (whatever Vancouver decides to throw at us for the day), we've been busy gearing up for next Thursday's opening including making, designing, and printing Sounds Good on Paper exhibition catalogues. 
Sounds Good on Paper opens March 29th, from 6:30-9pm and after hours of labour, edits, computer crashes, re-edits we can also happily say that the Exhibition Catalogue is done and ready to be taken home by all of you!
I won't talk too much about the exhibition, all of that can be found here at our exhibition page. 
I will say I had a great time writing the catalogue introduction, all drawn from conversations with Gwaai regarding his passion for Haida culture and his history. The full catalogue is available for purchase ($20 tax included) at Petley Jones Gallery (1554 West 6th Avenue, Vancouver BC 604-732-5353). 
Check out this "deleted scene" from the introduction that tells you a little more about "Ts'aahl Girl" (image above)
… "Ts'aahl Girl" (graphite on paper, 24 x 19 in.) may not adhere to "traditional" Haida forms but is, in fact, deeply rooted in Haida tradition. While researching his own Ts'aahl history, Gwaai discovered that it is "one of our rights to wear hummingbirds in our hair when we step out. When I learned that, [I was] ignited [by the] need to express that."